The Crimestoppers - 1984 - 1988
By the end of 1984, the band had seen the departure of Ed and Steve and the arrival of Mary Ann Welch on lead vocals and blues harp and Carlton Brown on bass. With the addition of Mary Ann and Carlton, the Crimestoppers were transformed into a powerhouse of rock. Mary Ann's vocals, howling blues harp, and dynamic stage presence, coupled with Carlton's energetic bass playing, Eric's solid drumming, Lenny's Hendrix-inspired lead guitar playing, and Dave's soulful singing and keyboard playing propelled the Crimestoppers to become a staple of the D.C. music scene.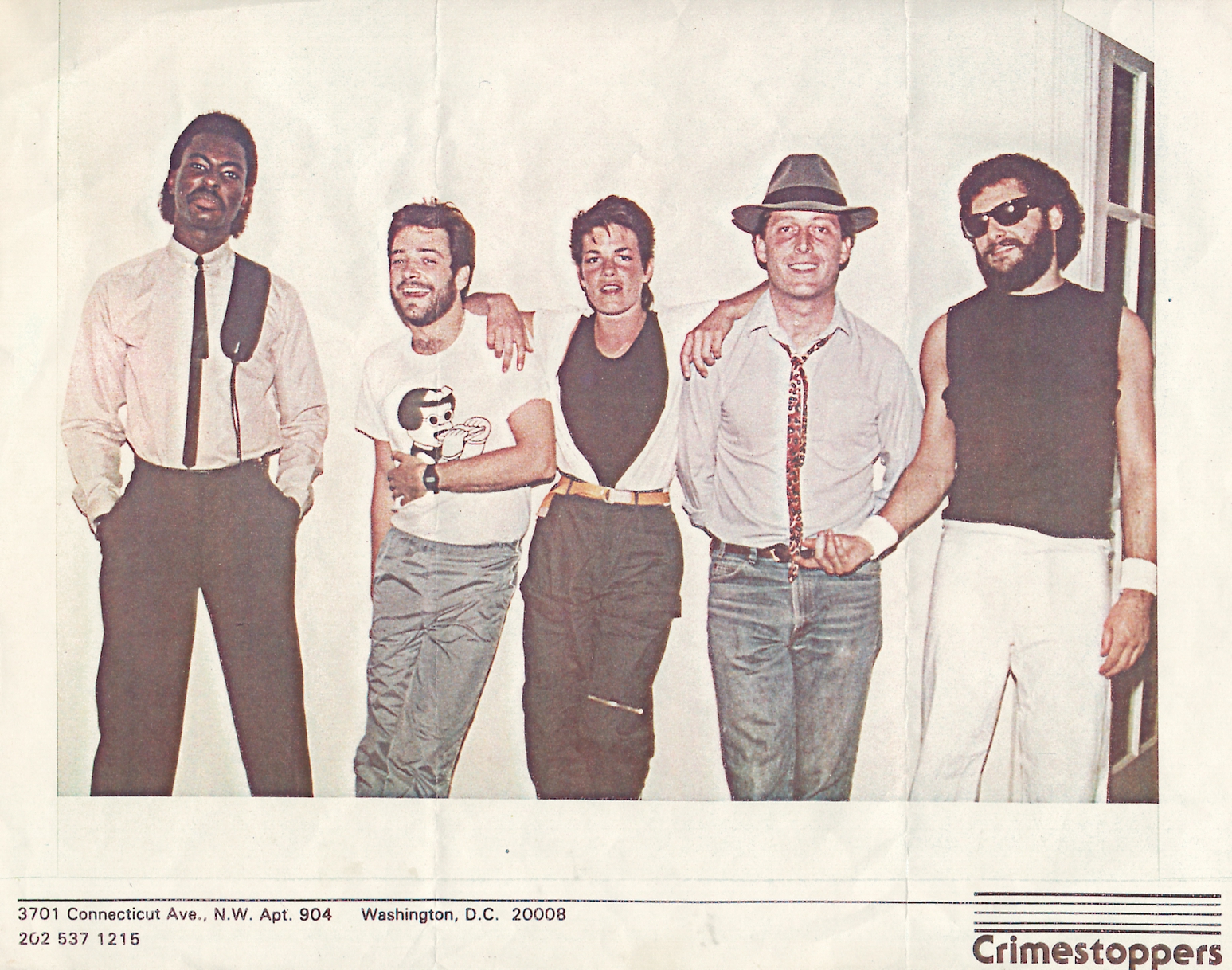 By this time, the Crimestoppers had a full compliment of technical engineers, with Chris Burdette in charge of sound, and Kosta Adamopoulos in charge of lights.
With Mary Ann, the Crimestoppers had a person to front the band, and Mary Ann's voice was perfectly suited to covering tunes by the Pretenders, Katrina and the Waves, and other female fronted bands.
In December, 1985, the band moved into Lenny's basement in Silver Spring, Maryland, and opened the New Year 1986 with a basement blow out, to break in their new home.
The band had numerous club dates, often leading off for renowned artists, such as Toots and the Maytals and Rootboy Slim at the Roxy Club and Papa John Creach and the San Francisco Allstars at the Wax Museum. In 1985, the band welcomed Nils Lofgren, on break from a Bruce Springsteen tour, to join them onstage at the Psychedelly in Bethesda, Maryland for a rousing fifteen minute rendition of "Stand by Me." The band played clubs from the Gentry on Capital Hill to the Carolinian, in Nags Head, North Carolina. Sometimes they split the bill with other bands, such as Tom Lofgren's New Keys or The All Points Bulletin Band at Friendship Station. Whether at Chaplin's, Quigleys, the Bayou, the Roxy, or Bosco's, the Crimestoppers moved audiences with their high energy brand of blues based rock.
This was also the most creative period for the band, producing original tunes, including Carlton's rocking tale of misplaced love, "Sellin' that Thang," and Lenny's "Heartdrops" and "Hold On." They recorded a 45 (remember those?) on the vanity press, with Lenny's "Hangin' Around" and Carlton's "Why Baby." Right click on the tunes to download mp3s all Copyright 1985.