The Crimestoppers

(and friends!)

ARRESTING ROCK AND BLUES





















WE'RE BACK! WINTER IS OVER! WE HAVE BOOKED A SERIES OF OUTDOOR SOCIALLY DISTANCED GIGS FOR THE SPRING, SUMMER, AND FALL 2021. WE ARE TOTALLY PSYCHED AND HOPE TO SEE YOU SOON!


We were honored to be part of two Halloween Howl shows at the Hamilton in 2013 and 2014. Thanks to Ronnie Newmyer! We can be seen here at 30:11 I Put a Spell on You with Liz Springer and James Bazen; 35:09 Love Potion # 9 with Brandon Ehrgood; 40:41 The Brain that Wouldn't Die and 50:38 Purple People Eater with Mark Noone; 53:03 Voodoo Woman with Liz Springer and James Bazen; 1:00:06 Werewolves of London with Ed O'Connell.


You can check out Set 1 of our February gig at Hershey's here and our livestream on Facebook last March here.

The Crimestoppers have been playing rock n' roll and blues in the Washington, D.C. area since January 1981 (yikes - 40 YEARS!) Originally known as "Dick Tracy and the Crimestoppers," the band shortened its name at the urging of an unnamed lawyer-member of the ensemble, who experienced angst about potential copyright infringement litigation in anticipation of the release of the Madonna-Warren Beatty 'Dick Tracy' film. The band played such fabled D.C. venues as The Gentry, Club Saba, The Roxy, the Wax Museum, Bosco's, the Psychedelly, Friendship Station, The Bayou, and Chaplin's.
The Crimestoppers are now a 5 (sometimes 6 or 7) piece band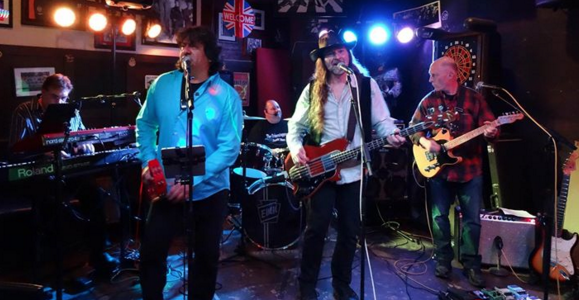 playing lots of blues and rock 'n roll. We cover such diverse groups and artists as Stevie Ray Vaughan, B.B. King, Los Lobos, the Allman Brothers, Eric Clapton, the Blasters, Neil Young, and Jimi Hendrix. The band currently features Stoney Johnstone (keyboards, vocals), Eric Nelson (drums, vocals), Lenny Stamm (guitar, vocals), Manny Sanchez (vocals), and Kennedy Wright (bass, vocals). Occasionally the band is joined by Barnaby Bristol (keyboards, vocals), (Ed O'Connell - keyboards, guitar, vocals), Eric Goldberg (guitar, bass, vocals), James Bazen (sax), Jamie MacKinnon (sax), Bob Garofalo (keyboards, harp), or Scott Ramminger (sax, vocals), Danny Jones (vocals), or Big John (vocals, harp, guitar). Sometimes the band is joined on vocals by Liz Springer. Check out our videos playing Feelin' Alright at Hershey's on 6/4/16, Waiting For The Bus/Jesus Just Left Chicago, Walking the Dog, Tenth Avenue Freeze Out and Crossroads, at the Bethesda Blues and Jazz Club on 1/3/14, the Brain that Refused to Die with Mark Noone of the Slickee Boys at Newmyer Flyer's Halloween Howl at the Hamilton on 10/25/13, a Canned Heat medley in the Woodstock tribute at Strathmore on 8/13/09 and Rockin' in the Free World, Cold Shot, and One More Saturday Night, at the Reston Town Center on 6/12/09 (with Jamie MacKinnon on sax)! And here are some hot mp3s from that gig - I'm Goin' Down, If I, Confidence Man, Marie Marie, Caldonia, Sweet Home Chicago, and Don't Worry Baby (they will stream with quicktime), The Thrill is Gone from Bangkok Blues on 6/26/09 (thanks to Evan Gangler) and My Baby's Gone from the Firehouse on 4/24/09. (Above pictured at the Public House 7 in Falls Church, Va.). Here are our latest videos, from 8/26/17 at Smokehouse Live in Leesburg, Va - Dim by Dada, the end of Jessica and Gimme Three Steps on 3/10/18 at the DC Rock'n'Roll Marathon and Touch of Grey at Crossroads on 3/7/18.

Check out our Facebook page and like us please!
Check out our own Edward O'Connell's CD Our Little Secret released summer 2010 on Amazon or iTunes. Here's what one reviewer said:
"Imagine Tom Petty, Warren Zevon, Pat Dinizio and Matthew Sweet locking themselves in a cabin with nothing but some recording equipment and a stack of old Elvis Costello and Nick Lowe albums. The result would be Edward O'Connell's 'Our Little Secret,' a hook-laden, finger-snapping, drive-around-and-sing-along-with-the-windows-open power pop gem. In fact, if any of the artists mentioned above had released this album, critics and fans would rank it among their best. If you think I'm being hyperbolic, listen to the sound clips. Hear the crisp, timeless production? Hear the smart lyrics? The warm vocals? The catchy melodies? Buy this now, and recommend it to your friends. O'Connell's music is too good to remain a secret."

Also check out Ed's 2nd CD Vanishing Act released in August 2014. This one will blow you away.

Check out our friends playing in our favorite other local bands: the Built 4 Comfort Band; the Bobby Lewis Blues Band; the Rhythm Bandits; the Marsh Brothers Band; Daryl Davis; Well Played; Dangerous Curves; and others!
some photos courtesy of Terry Brennan http://lifescenesphotography.smugmug.com/
Hard Rock photo courtesy of Matt Cwikiel, Driven to Clarity, http://www.facebook.com/driventoclarity